Preference and Usage of Social Media Applications Among Polytechnic Students in Ogun State, Nigeria
Keywords:
usage, polytechnic students, preference, social media, Nigeria
Abstract
Many researchers have studied the preference and use of Social Media in Nigeria but this was most common among university students. Very few studies have attempted to do this among Polytechnic students. This study, therefore, examined the preference and usage of Social Media applications among Polytechnic students in Ogun State, Nigeria. A descriptive research design of the non-experimental type was adopted. A sample of three hundred students was obtained using the multistage sampling method. 'Preference and Usage of Social Media Application Questionnaire, was the instrument of data collection. Analysis of data was done using Mean, S.D, and t-test. Findings showed that Polytechnic students' first choice Social Media applications are YouTube, Google+, Facebook, WhatsApp, Instagram, Yahoo messenger, Snapchat and Twitter. The majority of them use the applications mainly for assignment purposes, aside from using them regularly for other academic purposes. Finally, finding showed that there exists significant difference in Social Media preference among Polytechnic students based on gender. The potential of Social Media for academic uses should be harnessed by Polytechnic students and their lecturers.
References
Abdelraheem, A. Y. (2013). University students' use of social networks sites and their relation with some variables. Paper presented at the WEI International Academic Conference, Antalya, Turkey.
Ali, A., Iqbal, A. & Iqbal, K. 2016. "Effects of social media on youth: A case study in university of Sargodha". International Journal of Advanced Research, 4(11), 369-372.
Alkaabi, S, Albion, P, Redmond, P. (2017). Social network misuse in the classroom and its impact on male students' motivation in UAE tertiary education. IAFOR Journal of Education 5(SI), 115-131
Alkan, M. F., & Bardakci, S. (2017). High School Students' Learning Activities through Social Networks: A Qualitative Inquiry. Kastamonu Education Journal, 25(3), 1221.
Alnjadat, R., Hmaidi, M. M., Samha, T. E., Kilani, M. M., & Hasswan, A. M. (2019). Gender variations in social media usage and academic performance among the students of University of Sharjah. Journal of Taibah University medical sciences, 14(4), 390-394.
Al-Sharqi, L., & Hashim, K. (2016). University students' perceptions of social media as a learning tool. The Journal of Social Media in Society, 5(1), 65-88.
Anyanwu, E. U., Ossai-Onah, V. O., & Iroeze, P. (2013). Use of social media tools among Nigerian undergraduates in three selected tertiary institutions in Imo State, Nigeria. Information Impact: Journal of Information and Knowledge Management, 4(2), 46-52.
Boahene, K. O., Fang, J., & Sampong, F. (2019). Social media usage and tertiary students' academic performance: Examining the influences of academic self-efficacy and innovation characteristics. Sustainability, 11(8), 2431.
Boateng, R., & Amankwaa, A. (2016). The impact of social media on student academic life in higher education. Global Journal of Human-Social Science, 16(4), 1-8.
Curran, J. M., & Lennon, R. (2011). Participating in the conversation: exploring usage of social media networking sites. Academy of Marketing Studies Journal, 15, 21.
Davis III, C. H., Deil-Amen, R., Rios-Aguilar, C., & González Canché, M. S. (2015). Social media, higher education, and community colleges: A research synthesis and implications for the study of two-year institutions. Community College Journal of Research and Practice, 39(5), 409-422.
Eke, H. N., & Odoh, N. J. (2014). The use of social networking sites among the undergraduate students of University of Nigeria, Nsukka. Library Philosophy and Practice.
Elkaseh, A. M., Wong, K. W., & Fung, C. C. (2016). Perceived ease of use and perceived usefulness of social media for e-learning in Libyan higher education: A structural equation modeling analysis. International Journal of Information and Education Technology, 6(3), 192.
Ezeani, C. N., & Igwesi, U. (2012). Using social media for dynamic library service delivery: The Nigeria experience. Library Philosophy and Practice, 814.
Fasae, J. K., & Adegbilero-Iwari, I. (2016). Use of social media by science students in public universities in Southwest Nigeria. The Electronic Library.
Fatokun, K. V. (2019). Effect of social media on undergraduate students' achievement and interest in chemistry in the North-central geo-political zone of Nigeria. International Journal of Science and Technology Education Research, 10(2), 9-15.
Guimaraes, T. (2014). Revealed: The demographic trends for every social network. Retrieved from http://www.businessinsider.com/2014-social-media
Ghareb, M. I., & Sharif, H. O. (2015). Facebook effect on academic performance and social life for undergraduate students of university of human developments. International Journal of Multidisciplinary and Current Research, 3(4), 811-820.
Gok T. (2015). The effects of social networking sites on students' studying and habits. International Journal of Research in Education and Science, 2(1): 85-93
Hargittai, E. (2007). Whose space? Differences among users and non-users of social network sites. Journal of Computer-Mediated Communication 13 (1).
Hargittai, E. (2007). Whose space? Differences among users and non-users of social network sites. Journal of computer-mediated communication, 13(1), 276-297.
Hamade, S. N. (2013). Perception and use of social networking sites among university students. Library Review.
Hampton, K. N., Goulet, L. S., Rainie, L., & Purcell, K. (2011). Social networking sites and our lives, pp. 1-85. Pew Internet & American Life Project.
Hess, J., & Shrum, K. (2011). The new media and the acceleration of medical education. On the Horizon.
Hong, F., Huang, D., Lin, H. and Chiu, S. (2014), "Analysis of the psychological traits, Facebook usage, and Facebook addiction model of Taiwanese university students", Telematics and Informatics, 31(4), 597-606.
Ifinedo, P. (2016). Applying uses and gratifications theory and social influence processes to understand students' pervasive adoption of social networking sites: Perspectives from the Americas. International Journal of Information Management, 36(2), 192-206.
Ito, M., Horst, H., Bittanti, M., Boyd, D., Herr-Stephenson, B., Lange, G., Pascoe, D.J., & Robinson, L. (2008). Living and learning with new media; Summary of the findings from the digital youth project. Chicago: The John D. and Catherine T. MacArthur Reports on Digital Media and Learning. Retrieved from http://www.macfound.or g/site/apps/nlnet/content3.aspx?c=lkLXJ8MQKrH&b=6480257 &ct=6355113
Joinson, A. N. (2008). Looking at, looking up or keeping up with people? Motives and use of Facebook. In Proceedings of the SIGCHI conference on Human Factors in Computing Systems (pp. 1027-1036).
Junco, R., Merson, D., & Salter, D. W. (2010). The effect of gender, ethnicity, and income on college students' use of communication technologies. Cyberpsychology, Behavior, and Social Networking, 13(6), 619-627.
Junco, R. (2012). Too much face and not enough books: The relationship between multiple indices of Facebook use and academic performance. Computers in human behavior, 28(1), 187- 198.
Kaplan, A. M., & Haenlein, M. (2010). Users of the world, unite! The challenges and opportunities of Social Media. Business horizons, 53(1), 59-68.
Kim, K. S., Yoo‐Lee, E., & Joanna Sin, S. C. (2011). Social media as information source: Undergraduates' use and evaluation behavior. Proceedings of the American Society for Information Science and Technology, 48(1), 1-3.
Lahiry, S., Choudhury, S., Chatterjee, S., & Hazra, A. (2019). Impact of social media on academic performance and interpersonal relation: a cross-sectional study among students at a tertiary medical center in East India. Journal of education and health promotion, 8.
Lenhart, A., Purcell, K., Smith, A., & Zickuhr, K. (2010). Social media and young adults.Retrieved from Pew Research Center. Retrieved from http://pewinternet.org/Reports/2010/Social-Media- and-Young Adults.aspx.
Levine, W. (2012). Social media: the next cooperate frontier. Retrieved from http://www.bizcommunity.com/Article/196/16/77307 html.
Lilley, S., Grodzinsky, F. S., & Gumbus, A. (2012). Revealing the commercialized and compliant Facebook user. Journal of information, communication and ethics in society.
Madden, M., & Zickuhr, K. (2011). 65% of online adults use social networking sites.
Mazman, S. G., & Usluel, Y. K. (2010). Modeling educational usage of Facebook. Computers & Education, 55(2), 444-453.
McLoughlin, C., & Lee, M. (2007). Social software and participatory learning: Pedagogical choices with technology affordances in the Web 2.0 era. In ICT: Providing choices for learners and learning. Proceedings ascilite Singapore 2007 (pp. 664-675). Centre for Educational Development, Nanyang Technology.
Moran, M., Seaman, J. & Tinti-Kane, H., (2011). Teaching, learning, and sharing: how today's higher education faculty use social media. Babson Survey Research Group.
Neier, S., & Zayer, L. T. (2015). Students' perceptions and experiences of social media in higher education. Journal of Marketing Education, 37(3), 133-143.
Nigerian Communications Commission (2016). Subscriber Statistics. Available at http://www.ncc.gov.ng/index.php?option=com_content&view=article&id=125&Itemid=73.
Ogedengbe, O. E., & Quadri, G. O. (2020). The Use of Social Media by Undergraduates in South- West Nigeria: A Comparative Study.
Onuoha, U. D., Unegbu, V. E., & Lasisi, F. A. (2012). Undergraduates' use of face book for educational activities at Babcock University and University of Lagos, Nigeria, Jewel Journal of librarianship. 4,.85 – 91
Pempek, T. A., Yermolayeva, Y. A., & Calvert, S. L. (2009). College students' social networking experiences on Facebook. Journal of applied developmental psychology, 30(3), 227-238.
Picard, R. (2009). "Blogs, Tweets, Social Media, and the News Business". Retrieved from http://.www.niemam.harvard.edu/reportsitem.aspen. 09/11/0
Rideout, V. J. 2012. Children, teens and entertainment media: The view from the classroom. Common sense Media.
Ruleman, A. B. (2012). Social media at the university: a demographic comparison. New Library World.
Shittu, A. T., Basha, K. M., AbdulRahman, N. S. N., & Ahmad, T. B. T. (2011). Investigating students' attitude and intention to use social software in higher institution of learning in Malaysia. Multicultural Education & Technology Journal.
Singh, K. P., & Gill, M. S. (2015). Role and users' approach to social networking sites (SNSs): a study of universities of North India. The Electronic Library.
Sokoya, A. A, Onifade, F. N., & Alabi, A. O. (2012). Establishing connections and networking: the role of social media in agricultural research in Nigeria. Available at http://conference.ifla.org/ifla78. Retrieved August 2012.
Stainbank, L., & Gurr, K. L. (2016). The use of social media platforms in a first year accounting course: An exploratory study. Meditari Accountancy Research.
Stanciu, A., Mihai, F., & Aleca, O. (2012). Social networking as an alternative environment for education. Accounting & Management Information Systems/Contabilitate si Informatica de Gestiune, 11(1).
Swaminathan, T.N., Harish, A., & Cherian, B. (2013), "Effect of Social Media Outreach Engagement in Institutions of Higher Learning in India", Asia-Pacific Journal of Management Research and Innovation, 9(49), 349–357.
Talaue, G. M., AlSaad, A., AlRushaidan, N., AlHugail, A., & AlFahhad, S. (2018). The impact of social media on academic performance of selected college students. International Journal of Advanced Information Technology, 8(4/5), 27-35.
Tayo, S. S., Adebola, S. T., & Yahya, D. O. (2019). Social Media: Usage and Influence on Undergraduate Studies in Nigerian Universities. International Journal of Education and Development using Information and Communication Technology, 15(3), 53-62.
Ufuophu-Biri, E. (2020). Perception, Gender and Social Media Usage by Students of Tertiary Institutions in Delta State, Nigeria. Perception, 89.
VanDoorn, G., & Eklund, A. A. (2013). Face to Facebook: Social media and the learning and teaching potential of symmetrical, sychronous communication. Journal of University Teaching & Learning Practice, 10(1), 6.
Venkatesh, V., Morris, M. G., Davis, G. B., & Davis, F. D. (2003). User acceptance of information technology: Toward a unified view. MIS quarterly, 425-478.
Wickramanayake, L., & Jika, S. M. (2018). Social media use by undergraduate students of education in Nigeria: A survey. The Electronic Library.
Wiid, J. A., Cant, M. C., & Nell, C. E. (2014). Perceptions and uses of social media networking systems by South African students. International Business & Economics Research Journal (IBER), 13(4), 715-726.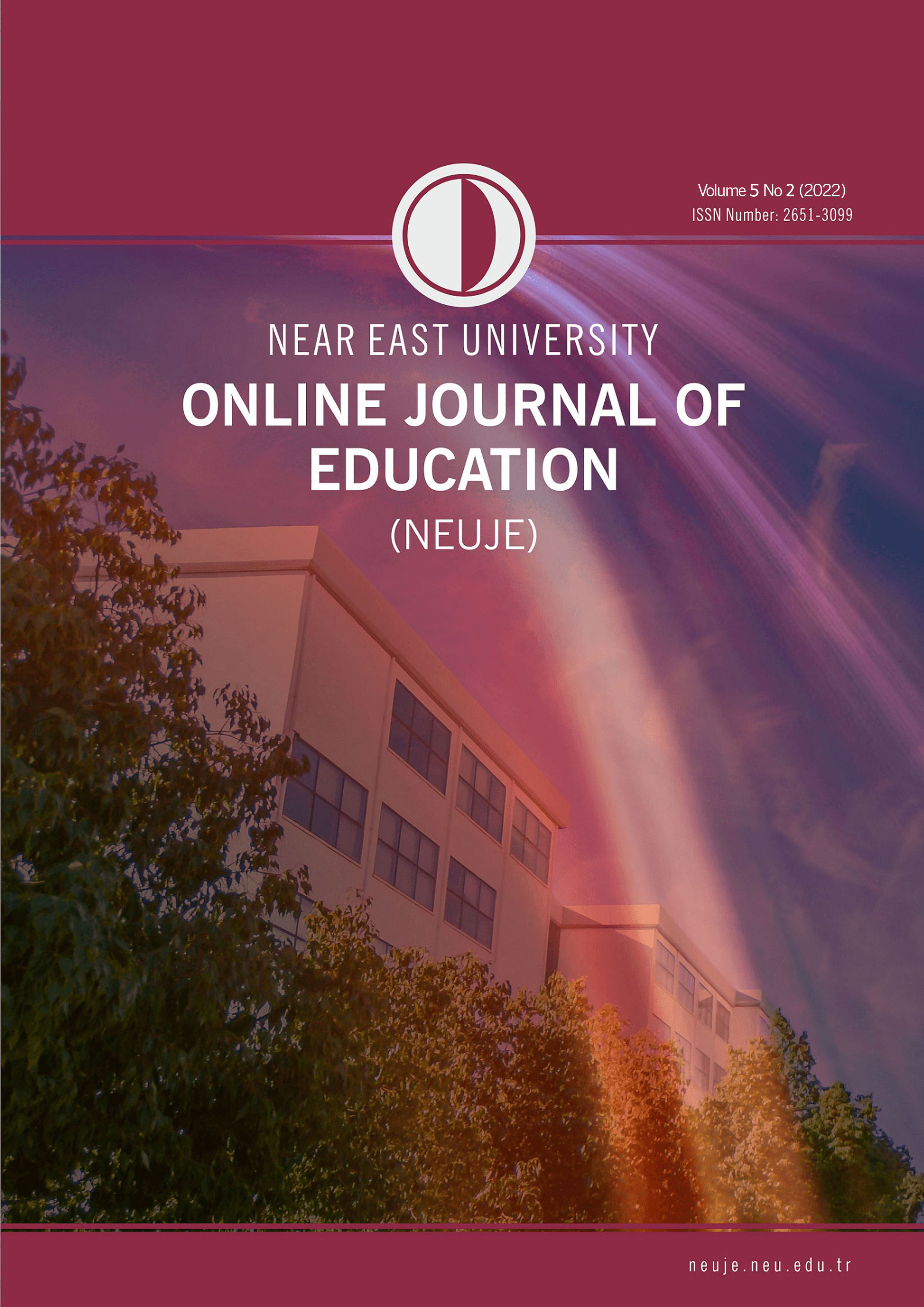 How to Cite
Adelana, O. P. (2022). Preference and Usage of Social Media Applications Among Polytechnic Students in Ogun State, Nigeria. Near East University Online Journal of Education, 5(2), 47–61. https://doi.org/10.32955/neuje.v5i2.546
License
Authors who publish with this journal agree to the following terms: