The Attitude Towards Online Counselling in Comparison to Face-To-Face Counselling Among United Arab Emirates Citizens
Keywords:
online counseling, face-to-face counseling, attitude, mental health, covid-19
Abstract
This research compares United Arab Emirates (UAE) citizen's attitudes toward online and face-to-face counseling. The aim of this research is to get a better understanding on UAE citizen's attitudes toward seeking either online or face-to-face counseling. After getting the ethical approval from the Scientific Research Ethics Committee, the use of both qualitative and quantitative research, which will include sharing the questionnaire online with the participants, as well as a focus group that included 8 participants. The research covered 180 participants who completed the socio-demographic form, The Online Counseling Attitude Scale (OCAS), and the Face-to-Face Counseling Attitude Scale (FFAS). Convenient sampling was used to secure replies from the participants and the results of this research were obtained using SPSS software.  Furthermore, it has been indicated that UAE citizens favor online counseling. However, there is a marginal difference in comparison to face-to-face counseling. With that being said, more investigation is required. To address and understand whether the digital solution will act as an alternative to face-to-face counseling. This is mainly because, online counseling can act as a functional source for seeking mental health services due to its easy accessibility.
References
American Psychological Association. (2014). Guidelines for psychological practice with older adults. The American Psychologist, 69(1), 34-65.
Chakraborty, M. (2021). Digital platform 'Tegahwa' launched in Abu Dhabi to address conflicts between Emirati couples. Mashable Middle East.
Fatima Rashed Al-Darmaki, A. S. (2015). Psychology and mental health services in the United Arab Emirates. APA.
Fitzpatrick, M., Nedeljkovic, M., Abbott, J. A., Kyrios, M., & Moulding, R. (2018). "Blended" therapy: The development and pilot evaluation of an internet-facilitated cognitive behavioral intervention to supplement face-to-face therapy for hoarding disorder. Internet interventions, 12, 16-25.
Frueh, C. M. (2007). Counselor adherence and competence with manualized cognitive-behavioral therapy for PTSD delivered via videoconferencing technology. Behavior Modification.
George Ursachi, I. A. (2015). How reliable are measurement scales? External factors with indirect. Procedia Economics and Finance. Procedia Economics and Finance, 679-686.
Glueckauf, R. L. (2018). Survey of psychologists' telebehavioral health practices: Technology use, ethical issues, and training needs. APA PsycArticles, 205-219.
Grohs, M. (2015). Telepsychology. Corrections Forum.
Joyce, N. (2020). Online therapy having its moment, bringing insights on how to expand mental health services going forward. the conversation.
Julia Stoll, J. A. (2020). Ethical Issues in Online Psychotherapy: A Narrative Review. frontiersin.
Mariana Sampaio, M. V. (2021). Therapists Make the Switch to Telepsychology to Safely Continue Treating Their Patients During the COVID-19 Pandemic. Virtual Reality Telepsychology May Be Next. Frontiersin.
Nicole E Gloff, S. R. (2015). Telemental health for children and adolescents. International Review of Psychiatry, 1-12.
Amos, P. M., Bedu-Addo, P. K. A., & Antwi, T. (2020). Experiences of online counseling among undergraduates in some Ghanaian Universities. SAGE Open, 10(3), 2158244020941844.
Rakesh Maurya, M. A. (2020). Counselors' Perceptions of Distance Counseling: A National Survey. Asia Pacific Counseling, 10(2), 1-22.
Richards, P. S. (2018). The impact of technology on therapeutic alliance and engagement in psychotherapy: The therapist's perspective. APS.
Sora, B. N. (2021). Acceptance and Use of Telepsychology From the Clients' Perspective: Questionnaire Study to Document.
Susan Simpson, L. R. (2020). Videotherapy and therapeutic alliance in the age of COVID-19. Wiley Online Library.
Vincent, C. B. (2017). Advancing telecommunication and its impact on psychotherapy in private practice: Telecommunication technology and psychotherapy. British Journal of Psychotherapy, 63-76.
Warner, K. (2021). Generation Start-up: Takalam provides online counselling at an opportune moment. thenationalnews.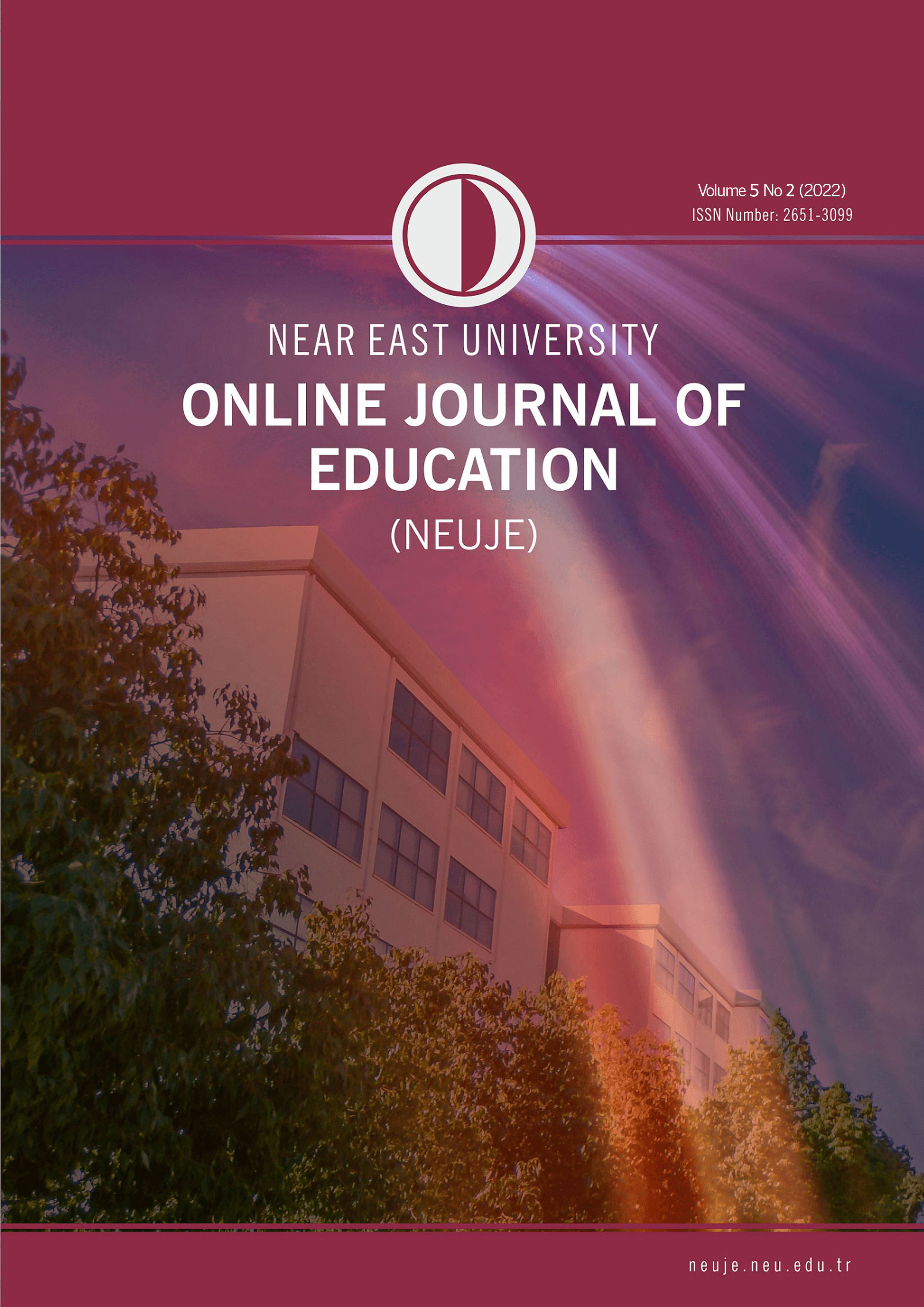 How to Cite
Al Muntaser, R. A., & Uzun, G. Öneri. (2022). The Attitude Towards Online Counselling in Comparison to Face-To-Face Counselling Among United Arab Emirates Citizens. Near East University Online Journal of Education, 5(2), 1–11. https://doi.org/10.32955/neuje.v5i2.556
License
Authors who publish with this journal agree to the following terms: