Students' Perspectives on Uzebim Use in Second Language Learning
Keywords:
distance learning, second language learning, evaluation, technology, Covid-19
Abstract
In order to keep up with the quick pace of technological advancement and reduce the transmission of Covid-19, new technical methods and platforms have been developed to aid in the learning of a second language. Since new model learners are said to as "digital natives," this improves their drive to learn a second language. The learning atmosphere for English preparatory school students at a private university in the TRNC is made easier by incorporating current technological systems and platforms into the learning process. As a result, this university created the UZEBIM online platform, which is also used by English language instructors and learners in second language study. The self-directed learning setting for language learners is produced by incorporating Uzebim into teaching and learning. The purpose of this study is to assess the effectiveness of employing Uzebim in light of the learners' perspectives on the second language. The current study was designed using a qualitative research paradigm, with 35 participants drawn from a private university's English preparatory school that uses the Uzebim platform. The goal of the study was to assess the use of Uzebim in the education-learning of a second language. The research group included 22 male and 13 female students who were enrolled in the first semester of the school year 2021-2022. As a data-gathering tool, a structured interview form was adopted. According to the findings of the study, a new technological platform, Uzebim, with respect to its programs in second language acquisition encouraged professors and students to experiment with novel instructional methods. Moreover, the Uzebim platform has a significant impact on second language learning. Furthermore, the students who took part in this study stated that because they may access their course information at any time and from any location, they can enjoy learning. Moreover, the element of using Uzebim while learning English as a second language was highly favorable, according to the findings. Another powerful aspect of using Uzebim is that they expressed their delight at being in the same digital environment as their lecturers and that they were attempting to write alongside them, particularly in academic writing.
References
Chandler, P. D., & Redman, C. (2012). Teaching Teachers for the Future: modelling and exploring immersive personal learning networks. Australian Educational Computing, 27(3), 54-62.
Doucet, A., Netolicky, D., Timmers, K., & Tuscano, F. J. (2020). About Pedagogy in an Unfolding Pandemic.
Grove, S. K., Burns, N., & Gray, J. (2012). The practice of nursing research: Appraisal, synthesis, and generation of evidence. Elsevier Health Sciences.
Kemp, S. E., Ng, M., Hollowood, T., & Hort, J. (2018). Introduction to descriptive analysis. Descriptive analysis in sensory evaluation, 1.
Köprülü, F., Cakmak, S., & Ersoy, A. (2019). The Arab Students' Needs and Attitudes of Learning English: A Study of Computer Engineering Undergraduates in Cyprus. In The International Conference on Artificial Intelligence and Applied Mathematics in Engineering, 744-749. Springer, Cham.
Lu, J., & Churchill, D. (2013). Creating personal learning environments to enhance learning engagement. In 2013 IEEE 63rd Annual Conference International Council for Education Media (ICEM), 1-8. IEEE.
Miles, M. B. & Huberman, A. M. (1994). Qualitative data anaylsis, (2nd edition). Thousand Oaks, CA: Sage Publications.
Pisey, S. H., Ramteke, P. L., & Burghate, B. R. (2012). Mobile Learning Transforming Education & Training. International Journal of Advanced Research in Computer Science, 3(3).
Pratama, E. Y. (2015). The implementation of blended learning method using edmodo (a social networking site) in teaching reading comprehension (A Mixed-Method Study at a University in West Java). International Conference on Language Literature, Culture and Education.
Rajesh, M. (2015). Revolution in communication technologies: impact on distance education. Turkish Online Journal of Distance Education - TOJDE, 16(1), 62-88.
Sintema, E. J. (2020). Effect of COVID-19 on the Performance of Grade 12 Students: Implications for STEM Education. Eurasia Journal of Mathematics, Science and Technology Education, 16(7), em1851. https://doi.org/10.29333/ejmste/7893
Subedi,S., Nayaju, S., Subedi., Ahah,S,K., Shah,J.M. (2020). Impact of e-learning during COVID-19 pandemic among nurshinh students and teachers of Nepal. International Journal of Science and Healthcare Reseach, 5(3), 9.
Yildirim, A., & Simsek, H. (2008). Qualitative Research Methods in Social Sciences. 8th print. Seckin Publishing House.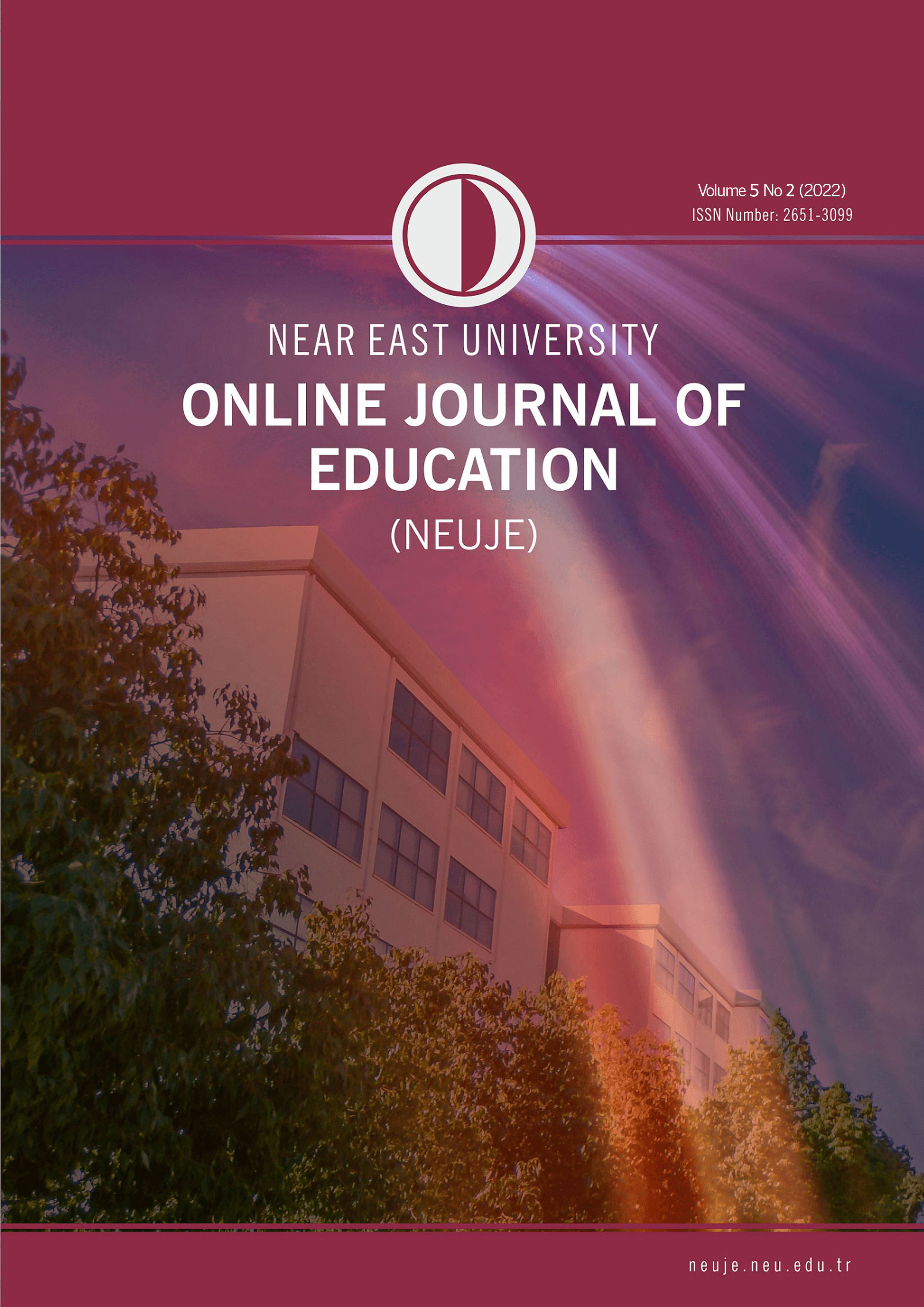 How to Cite
Tangiri, R. N., Çakmak, S., & Ersoy, A. (2022). Students' Perspectives on Uzebim Use in Second Language Learning . Near East University Online Journal of Education, 5(2), 19–27. https://doi.org/10.32955/neuje.v5i2.634
License
Authors who publish with this journal agree to the following terms: